Community Foundation Given $1.1M for Outreach
By BRIAN BREHM | The Winchester Star  Sep 27, 2017
WINCHESTER — A million-dollar gift from an apparent stranger has helped double the Community Foundation of the Northern Shenandoah Valley's charitable endowment.
The surprise announcement was delivered Tuesday during an appreciation luncheon for the Winchester-based foundation's donors, beneficiaries and supporters.
---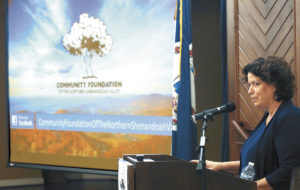 Community Foundation of the Northern Shenandoah Valley Executive Director Debbie Connolly welcomes donors and guests Tuesday to the organization's appreciation luncheon at Shenandoah Valley Westminster Canterbury.  The group announced a $1.1 million gift to its endowment at the event.  Jeff Taylor/The Winchester Star
---
Foundation President Erik Beatley said Lois A. Kirkwood, a retired nurse who moved to Winchester following a 30-year career at Inova Fairfax Hospital, died Nov. 25, 2016, and left her entire estate to community organizations. She was 74 years old.
The foundation, a nonprofit organization that manages 76 separate charitable funds, received $1.1 million from the Kirkwood estate, which helped raise its total endowment from $1.6 million on Jan. 1 to its current level of $3.2 million.
Beatley's announcement elicited gasps and applause from the approximately 100 people who attended the luncheon at Shenandoah Valley Westminster-Canterbury in Frederick County.
---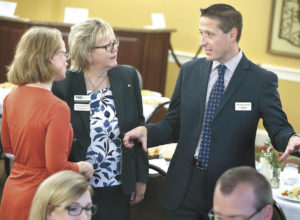 Community Foundation of the Northern Shenandoah Valley President Erik Beatley talks Tuesday with Lord Fairfax Community College Foundation Executive Director Liv Heggoy (left) and Community Foundation board member Darcus Breneman during the event.  Jeff Taylor/The Winchester Star
---
No one knows why Kirkwood showed such generosity to the foundation, or why she decided to support the organization's mission to provide funding to nonprofit groups in Winchester and Frederick, Clarke and Warren counties.
"It was a very unexpected gift for us," said Debbie Connolly, the foundation's executive director and sole paid employee. "We did not have an ongoing relationship with Lois Kirkwood, but somehow, she knew about us. We're trying to figure out the connection."
According to Kirkwood's obituary from Omps Funeral Home, she graduated from Falls Church High School in 1960, earned a degree in nursing from Duke University and served as a nurse in the U.S. Army in Okinawa, Japan.
When she returned to the United States, she married James L. Kirkwood III on May 6, 1967. James Kirkwood died in Frederick County on May 12, 2007. The couple had no children.
Lois Kirkwood's obituary said she was an active volunteer at Winchester Medical Center and participated in animal therapy with her two dogs, Lucky and JoJo, but it is unclear when or why she and her husband moved to the Winchester area.
Beatley said the entirety of Lois Kirkwood's estate was willed to various charities. It is unknown which charities she assisted beyond the foundation, but Lois Kirkwood's obituary encouraged people to make memorial donations to the Blue Ridge Center for Therapeutic Horsemanship in Millwood, Briggs Animal Adoption Center in Charles Town, W.Va., and Agape Center ministry at Smith Mountain Lake.
"We were notified this summer that we'd be receiving the gift, and we got the first check in August," Connolly said. "It's going to make an unbelievable difference for our organization."
---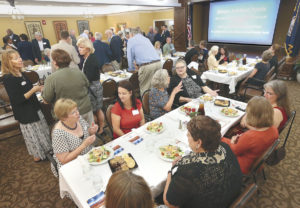 Shenandoah Valley Westminster-Canterbury hosted the Community Foundation of the Northern Shenandoah Valley's appreciation luncheon for donors and grant recipients Tuesday.  Jeff Taylor/The Winchester Star
---
Beatley said each one of the 76 charitable funds managed by the foundation received $1,000 from Lois Kirkwood's gift. The remaining money was invested in the foundation's endowment, where it will generate average annual yields of 8.39 percent to support ongoing community needs and offset the organization's annual operating expenses.
"This may allow us to have more staff," Connolly said. "As we grow bigger, we're going to need more people to do the good work that we do."
The Community Foundation of the Northern Shenandoah Valley's pooled endowment makes it possible for donors to support more than six dozen causes and organizations of their choice. Money is dispersed by the foundation in accordance with the directions of the people or organizations that established the individual charities.
Additionally, the foundation serves as the fiscal agent for two annual charity drives: WINC-FM's Chain of Checks and the Rotary Club of Winchester's Coats for Kids.
---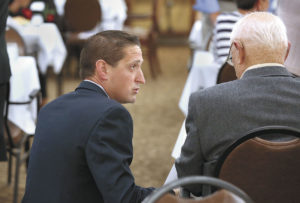 Community Foundation of the Northern Shenandoah Valley President Erik Beatley (left) talks with founder Bill Huehn during the foundation's appreciation luncheon for supporters Tuesday.  Jeff Taylor/The Winchester Star
---
On Tuesday, 20 community organizations received a total of $40,000 in grants from two of the charitable funds managed by the foundation.
The Cochran Family Youth Fund, which supports regional youth programs, awarded grants to the Bluemont Concert Series, ChildSafe Center-CAC, Fremont Street Nursery, Girls on the Run of the Shenandoah Valley, Shenandoah Area Council of the Boy Scouts of America, Shenandoah Valley Discovery Museum and Shenandoah Valley Scholars' Latino Initiative.
The Paul and Martha Rees Fund, which supports a wide range of organizations that benefit Northern Shenandoah Valley residents, presented grants to AbbaCare, Big Brothers Big Sisters of Northwest Virginia, Blue Ridge Area Food Bank, Concern Hotline Inc., Faith in Action Northern Shenandoah Valley, House of Hope, Literacy Volunteers Winchester Area, the Lord Fairfax Community College Educational Foundation, Lutheran Family Services of Virginia Inc., Our Health Inc., the Shenandoah Alliance for Shelter, Shenandoah University's Nonprofit Governance Symposium and St. Luke Community Clinic.
"It's a rather humbling experience to see the needs of the community we may or may not be aware of," said Ben Glenn II, a member of the foundation's board of directors.
♦