The Community Foundation of the Northern Shenandoah Valley and 105 WINC-FM proudly announce that the 2020 Chain of Checks campaign raised $171,059.57 for CCAP of Winchester. In their application for the grant, CCAP requested $50,000 to purchase a new box truck with a lift so that they could deliver food and material goods to the populations of people that have no transportation.  The campaign concluded on December 31st.
Andrea Cosans, Executive Director for CCAP of Winchester, said "We are only as strong as our weakest link and I am so grateful that the community recognizes this and gives back to make us all stronger.  When you see the CCAP truck in your travels, please know that you helped make this happen, and that you are feeding families in need."
The grand total includes proceeds from the Chain of Checks golf tournament in October, the opening night of Frederick County Parks' Winter Wonderland, two movie events at the Family Drive-In Theater, the  "50 Friends" collection canisters (change jars to change lives) hosted in area businesses,  the Match Days Radiothon on December 17th and 18th, and two very special anonymous gifts.
In addition to the loyal listeners that phoned in and made their pledges on line, some individuals and business offices dropped off their collections to the WINC-FM studios during the two-day drive.  The Match Day sponsors were Bill and Lois Reynolds, the Bowman-Shoemaker Companies, Tri-State Nissan (a member of the Marlow Automotive Group), and  White House Foods.
The check was presented to CCAP was conducted during the WINC Wake-Up Show on January 28th.  Barry Lee, 'founder' of the Chain of Checks commented, "Who would ever have dreamed that the largest total ever collected in the 35 year history of the Chain of Checks would happen during a devastating pandemic?  We are surrounded by angels."
With the campaign raising three times more than what was needed to purchase the box truck, the CCAP Board decided to use the overflow of funds to buy food to keep filling the truck, as well as assist neighbors who are struggling with rent, utilities and medication costs due to the impact of the virus.
Since its creation in 1986, the Chain of Checks has raised over $1.5 million dollars for local charities, and received the Virginia Association of Broadcasters "Best Public Service / Community Event" for 2006, 2008 and 2012, and 2014.  The Community Foundation of Northern Shenandoah Valley is the fiscal agent for this community campaign.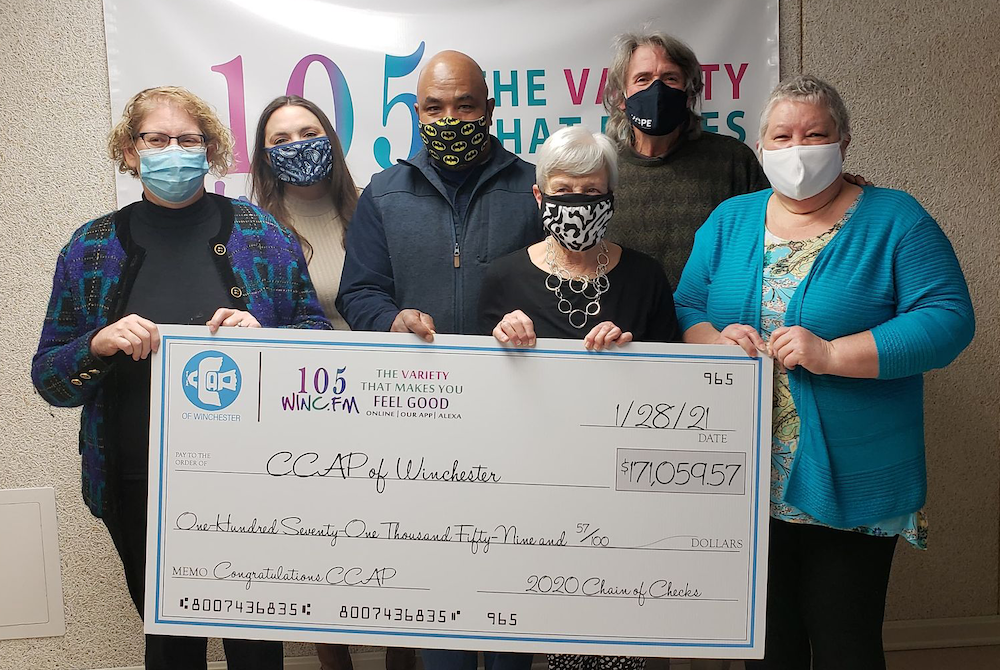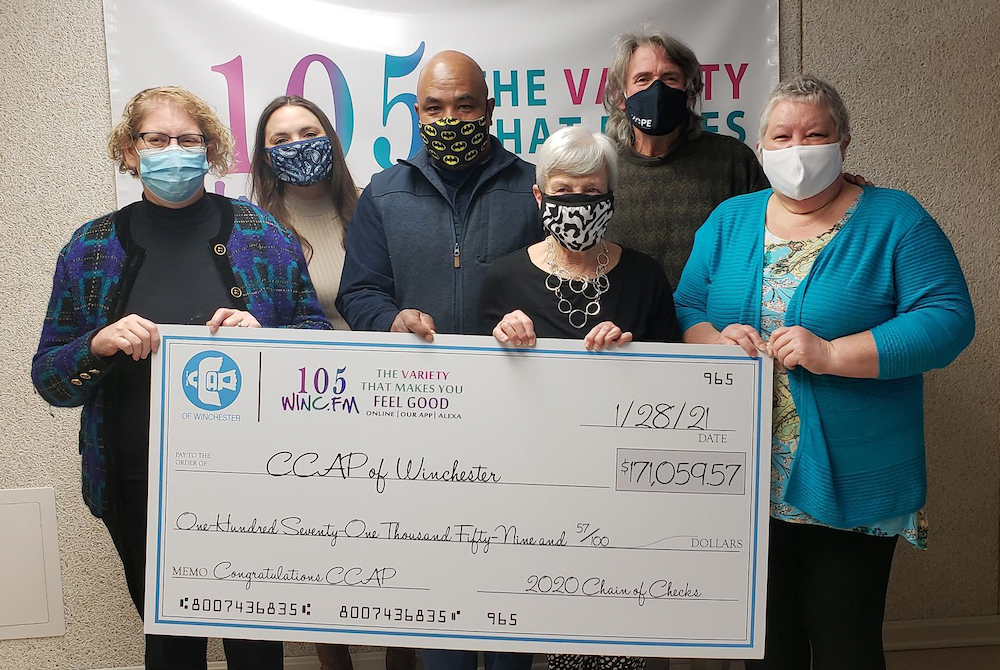 Pictured from left to right are as follows:
Andrea Cosans – Executive Director of CCAP of Winchester
Katie G – WINC Wake-Up Show
Joe Lewis – Vice President of CCAP Board
Anne Ashby – President of CCAP Board
Barry Lee – WINC Wake-Up Show
Robin Russell – Former Interim Director