Best Wishes to Mary Washington Memorial Scholarship Recipient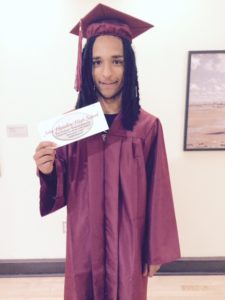 The CFNSV wishes Isaiah Campbell all the best as he begins his studies at Lord Fairfax Community College.  Isaiah, a 2015 graduate of John Handley High School, was the recipient of the Mary Washington Memorial Scholarship. The $500 scholarship will help Isaiah take this first step toward his ultimate goal of earning a bachelor's degree in Music.
Isaiah has worked hard toward his goal. While completing his advanced diploma in high school, he worked at Chipotle Mexican Grill, took music theory lessons and performed with his heavy metal band Ritualistic. His musical tastes include heavy metal, classical, jazz and Spanish ballads. He strives for balance in his life and knows that education is the key to success.
The Mary Washington Memorial Scholarship fund was established by Bruce and Donna Downing in memory of their dear friend and employee of the family. The fund provides financial assistance to college-bound African-American students graduating from John Handley High School. Additional support for this year's Mary Washington Memorial Scholarship was provided by the Winchester Angel Fund, also established by the Downing family.
The CFNSV feels privileged to be able to assist such a fine student in meeting his goals.