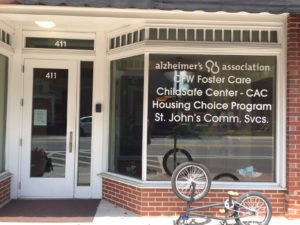 The Community Foundation of the Northern Shenandoah Valley joined the Our Health Campus in July when it opened its office at 411 N. Cameron Street, 2nd Floor, Winchester.  Our Health is a non-profit community resource, affiliated with Valley Health, which supports community agencies in the Northern Shenandoah Valley.
As an Our Health partner agency, CFNSV enjoys the many benefits of co-locating with many nonprofit and government agencies.  These benefits, include low facility costs, which help to keep our operating expenses and fees low.  Additionally, Our Health allows us to interact daily with community nonprofits and the clients they serve, allowing us to keep a finger on the pulse of our nonprofit community.
CFNSV Executive Director Debbie Connolly will work out of the new office on a daily basis.  If you are in the area, feel free to stop by.  Please call 540-869-6776 or email director@cfnsv.org to ensure she will be available.