Our annual Thank You Luncheon gives the Community Foundation an opportunity to thank everyone who supports our nonprofit community, to honor our grant recipients and to celebrate the successes of the past year.  Nearly 100 members of our community gathered for lunch at Shenandoah Valley Westminster-Canterbury on Tuesday, September 21. Attendees enjoyed lunch and networking opportunities, and thirteen nonprofits receive $31,000 in grants from the Cochran Family Youth Fund and the Paul and Martha Rees Fund (learn more about these funds and the 2018 grant awards).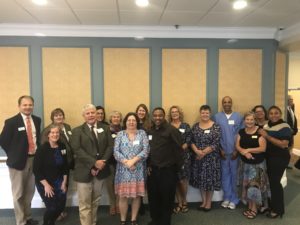 Community Foundation Highlights
Additionally CFNSV celebrated a historic year of growth.  Since last year at this time, CFNSV has helped to return more than $230,000 to the community.  This was a $30,000 increase from the previous year.  Additionally, CFNSV experienced a 62% increase in its total fund value in one year with nearly $5.2 million in 96 named funds.
Other highlights of the past year include:
Increased efficiencies with new integrated community foundation software
Implementation of a donor portal that allows online access to a donor's funds
Ability to offer non-endowed agency and donor-advised funds
Increased donor flexibility with three new investment portfolios
A grant portal to manage the full grant process and facilitate a larger number of competitive grant programs
CFNSV thanked the Rotary Club of Winchester for their selection of the Community Foundation as the recipient of their 2017 golf tournament.  The proceeds from this tournament helped to purchase new accounting and grant management software.  This new software was crucial to the Community Foundation's success during the past year.
Additionally, CFNSV recognized their annual sponsors who's support provided critical resources to support the Community Foundation's growth.  Sponsors included:  Enterprise Hospitality Group, LLC, Tom and Sharon Byrd, Byron Brill and Kathy Kanter, Steve and Terry Cluss, First Bank, H.N. Funkhouser & Company, Tech Team Solutions, LLC, Valley Health, Valley Proteins, Yount, Hyde and Barbour, CPA's, Bank of Clarke County, Joe and Mary Anne Biggs, Mason Companies, Melco, Inc., Shenandoah University, Shenandoah Valley Westminster-Canterbury, Stoneridge Homes, and United Bank.
The Thank You Luncheon was sponsored by the CFNSV Board of Directors.