Foundation continues mission of helping nonprofit organizations
By BRIAN BREHM | The Winchester Star  Jul 25, 2017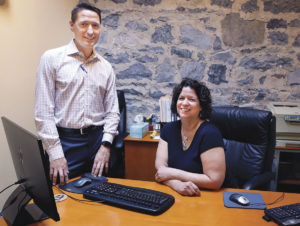 Erik Beatley, president of the CFNSV Board and Executive Director Debbie Connolly meet in Connolly's Office. Scott Mason/The Winchester Star
WINCHESTER — The Community Foundation of the Northern Shenandoah Valley is helping local nonprofit organizations find strength in numbers.
The foundation's roots stretch back 16 years, when a local group of Rotary Club members established a long-term funding mechanism for charitable agencies, said Executive Director Debbie Connolly.
The Community Foundation of the Northern Shenandoah Valley, which is itself a nonprofit organization, established a pooled endowment fund for donors to support causes and organizations of their choice in Winchester and the counties of Frederick, Clarke and Warren. Today, 74 individual donor funds have combined to build the foundation's endowment to $2.1 million.
"That investment grows, and the earnings are given back to whatever charitable cause they [the individual donors] designated," Connolly said.
Some funds within the endowment were created by donors who want to support a specific charity, while others were established by donors who want the option of selecting a different recipient every year.
These individual funds are ideal for philanthropists who want to continue helping charities even after they are no longer around to write checks.
Erik Beatley, president of Allen Properties Inc. in Winchester and head of the foundation's 12-member board of directors, said his former boss, Joseph Allen, made generous donations to numerous nonprofit organizations every Christmas, but the support stopped when Allen died in 2013 because he had not established or contracted with a charitable foundation.
"If we had backed up, we could have set up a fund at the Community Foundation and those checks could have continued forever," Beatley said.
Agency funds, Connolly said, are another entity, allowing nonprofit organizations to invest their own money in the foundation's endowment and allowing it to grow until the annual earnings can support administrative expenses or expansion projects.
"They're able to pool that money with all the other investments, and they get professional management of their money," Connolly said. "It's still their money, reported on their books. We're just holding and managing that investment for them."
"They get market returns as opposed to savings account returns," Beatley said. "The ultimate goal is that they no longer have to raise money year after year after year to fund operations, because the endowment does that."
On average, Beatley said, the foundation's endowment has had annual yields of 8.39 percent, "and that's extremely competitive." By comparison, traditional savings accounts pay annual interest rates of 1.5 percent or less.
By pooling dozens of donor and agency funds into a single large endowment, Beatley said, investors enjoy higher returns and lower administrative fees.
The Community Foundation of the Northern Shenandoah Valley's administrative fee is 1 percent, "which is relatively small but funds our operations," Connolly said.
Just last week, after 16 years in business, the foundation used a portion of its proceeds to move into its first professional office — a small room on the second floor at 411 N. Cameron St., in the Our Health complex.
"It's a step forward for us," Connolly said. "Being located here, we are in the midst of the nonprofit community."
Bigger offices aren't important to Connolly and Beatley. They would rather grow the endowment fund to help as many nonprofit groups as possible.
"Ultimately, our goal is to get to $35 million," Beatley said.
Since the foundation's annual payout for agency funds averages about 4 percent of each nonprofit organization's investment, a $35 million endowment would allow it to distribute about $1.4 million every year.
"To me, that's game-changing for a community like Winchester," Beatley said. "That covers a lot of operational costs for a lot of nonprofits."
Another service provided by the foundation is the offering of competitive grants for nonprofit agencies.
For example, Beatley said, a donor may tell the foundation he wants his or her money to support education, so the Community Foundation of the Northern Shenandoah Valley announces it has money to give for education-related causes. After collecting responses, it sends the donor a list of potential recipients.
After an agency is selected for a grant, "We go out and try to find funding for the ones that don't get funded," Beatley said. "That's our goal, to link people that have and people that need."
Additionally, the foundation serves as the fiscal agent for two annual charity drives: WINC-FM's Chain of Checks and the Rotary Club of Winchester's Coats for Kids.
All told, with payouts from the charity drives and endowment proceeds, Connolly said the Community Foundation of the Northern Shenandoah Valley has distributed more than $1 million to area nonprofits since its inception.
Money invested in the foundation's endowment is safe, Connolly said. It's invested with Mason Investment Advisory Services Inc. of Reston, which oversees 1,105 accounts totaling more than $5.7 billion in assets.
If the foundation stopped doing business, the endowment would transfer to another nonprofit community foundation that would enlarge its service area to include Winchester and Frederick, Clarke and Warren counties.
"Nearly every county in Virginia is served by a community foundation," she said.
Beatley said local nonprofit groups and donors should give serious consideration to partnering with the Community Foundation of the Northern Shenandoah Valley to help weather financial storms caused by funding cutbacks and economic recessions.
"We've got to be strategic in our thinking about not living year to year, or grant to grant, or city funding to city funding," he said. "There are other speed bumps in the road that are probably going to be worse, and the nonprofit community has to be prepared for them."
Learn more about the Community Foundation of the Northern Shenandoah Valley at cfnsv.org